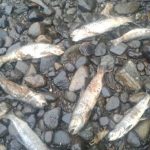 A Donegal County Council official has acknowledged that there an issue has occurred at a Waste Water Treatment Plant near Convoy, close to where a local councillor says a fish kill has occurred.
The council says the plant is overloaded, and requires an upgrade. Staff are attending to the problem and desludged yesterday. They will do so again today.
It follows an overnight statement from Cllr Liam Doherty, who says the remains of dead fish have been found at one spot in the river close to a local sewage treatment plant, and it appears that fish have been dying in the area over the past number of days.
Both Inland Fisheries Ireland and the council are investigating.
The council official says he visited the area yesterday and did not observe the alleged huge number of dead fish. However, Cllr Doherty believes the situation is serious.