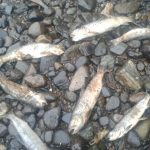 Evidence is emerging of a fish kill in the River Deele in Convoy, with Inland Fisheries Ireland and Donegal County Council both investigating the situation.
The issue's been highlighted by local Cllr Liam Doherty, who says the remains of dead fish have been found at one spot in the river close to a local sewage treatment plant, and it appears that fish have been dying in the local area over the past number of days.
He says investigations into what's happened are continuing............