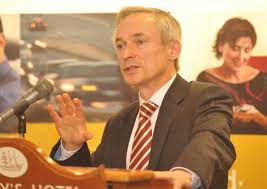 Sinn Fein's Finance Spokesperson Pearse Doherty has accused the government and Fianna Fail of an ostrich mentality that is responsible for Ireland's tax reputation being damaged.
Pearse Doherty was speaking after the American President singled out US companies who he said became 'magically Irish' in order to cut their tax bills.
Barack Obama - in an interview with the TV network CNBC - accused Corporations of playing the system.
The Jobs Minister Richard Bruton's adamant the problem does not lie with Ireland:
Deputy Doherty doesn't fully agree - he believes Ireland should be taking action on the issue: