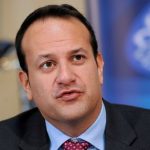 A Fine Gael minister says Sinn Féin can't be part of a government until Gerry Adams admits his role in the Troubles.
Speaking at the MacGill Summer School in Glenties, Leo Varadkar says Sinn Fein mustn't trust the public if it refuses to discuss Mr Adams' alleged role within the IRA.
The Sinn Fein president has always denied being a member of the IRA.
But Leo Varadkar says Sinn Féín will never be trusted by the public unless it comes clean about its past: