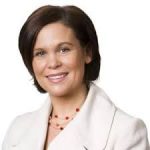 Sinn Féin's deputy leader says Fianna Fáil and Fine Gael should go into government together.
Mary Lou McDonald says the two parties have a lot in common - and the things that divide them are no longer relevant.
She was speaking after both Micheal Martin and Leo Varadkar ruled out going into power with Sinn Féín after the next election.
Speaking at the MacGill Summer School last night, Deputy McDonald said those two TDs would make great coalition partners: