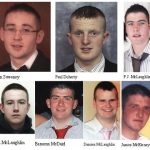 A man's guilty plea to causing the deaths of eight men in a road crash has spared their families further trauma, a local priest has said.
Shaun Kelly, of Hill Road in Buncrana, pleaded guilty to charges of dangerous driving yesterday.
The crash at Meenaduff, between Buncrana and Clonmany in July 2010 was Ireland's worst ever road accident.
Hugh Friel, 66 and seven of Shaun Kellys friends, aged between 19 and 23, died in the crash.
Father Michael Sweeney says the fact that there will be no trial, brings a little closure for the families: