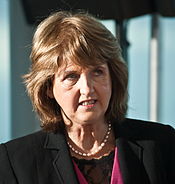 The Tánaiste's supporting calls for an urgent overhaul of the Gardaí at all levels.
Joan Burton is backing her colleague Frances Fitzgerald, who says there's major mistrust in the force.
The Tánaiste says she fully agrees that an overhaul is needed to help ordinary people have confidence in the force.
She is speaking this moring at MacGill summer School in Glenties on Restoring Trust in and Credibility To Our Institutions.
The Tánaiste claims the changes being planned by Minister Fitzgerald wouldn't have happened without Labour:
The Tanaiste was also asked about the appointment of Minister Leo Varadka as Minister or Health.
She says their is no doubt he has inherited a number of challenging issues from Dr James Reilly: