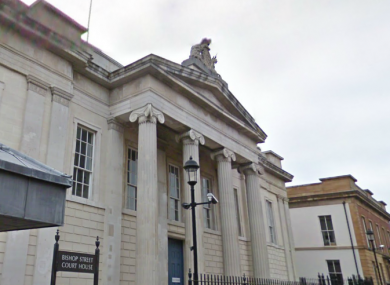 A man accused of an attack in Derry on a man who has still not regained consciousness has been refused a variation on his bail.
Teddy Roulston, of Ballycolman Estate, Strabane, appeared before Derry Magistrates Court today in an effort to have the conditions of his bail changed to allow him to reside in Derry to take up a new job.
The alleged incident took place on June 11, when 29 year-old Roulston punched the injured party on Waterloo Street after a 'falling out'.
The incident was captured on CCTV.
It is believed the injured party was unconscious before he hit the ground and bystanders described a large 'crack' when his head the pavement.
The injured party has not regained consciousness but was described as 'medically stable'.
The court today heard that his breathing and feeding are assisted and he has 'limited response to pain'. His recovery is 'unsure' and expected to be 'extremely long term'.
Police objected to the change in address saying the mother of the injured party had written a letter indicating the fact that she would not like Roulston to be in the city.
She said the family was finding the situation 'doubly harrowing' as her husband fell from a ladder 16 years ago and required 24 hour care for a long period before passing away.
The woman said she has 10 other sons and as 'emotions are running high' she would be concerned about them meeting Roulston in the city.
Deputy District Judge John Connolly refused the term that Roulston should reside in the city but allowed his curfew hours to be changed and also changed the times he must report to the police station.
He added that he hoped Roulston could find 'gainful employment' but said he refused the change of address due to fear of interference with witnesses.
Roulston will appear back before the court again next month.