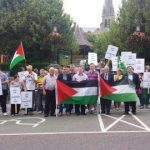 Over 100 people gathered at Market Square in Letterkenny today at lunchtime to protest at the escalation in Israel's offensive in Gaza, which has seen up to 250 Palestinians killed, dozens of them children.
The situation intensified last evening when a ground offensive began, despite UN calls for the situation to be defused.
Today's Letterkenny protest was organised by Sinn Fein - Donegal North East TD Padraig Mac Lochlainn says this and other events around the world send an important message of solidarity to people in Gaza.........