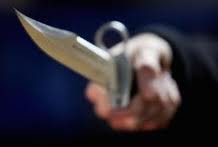 The Your Store shop on Strabane's Melmount Road has been targeted by an armed robber.
At around 7.30pm last evening the man entered the shop brandishing a knife - he threatened a female member of staff before escaping with a small sum of cash.
It is the third time in 18 months that a shop in the centre has been targeted.
Local Councillor Patsy Kelly says someone must have information on the man: