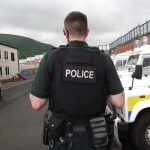 A security alert in the Westlake area of Derry's Waterside is over.
An explosive device was discovered at around 7am on the ground behind the rear wheel of a parked car, and after a technical examination, a controlled explosion was carried out.
The device, which is described as 'viable', was made safe and removed for examination.
Detectives say they are keeping an open mind as to the motivation behind this morning's alert and they are appealing for witnesses or for anyone with information that could assist the investigation to get in touch with them.