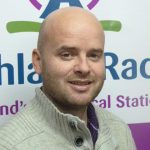 Weekend Edition with Greg Hughes broadcasts on Highland Radio each Saturday morning between 10am and noon - if you want something included you can contact greghughes@highlandradio.com.
On this weekend edition we spoke to celebrity Chef Brian McDermott ahead of what turned out to be a hugely successful Home Grown Food Festival in Letterkenny.
Niki Bradley dropped by to give an update on her 'Fighting for Ewing's challenge, driving instructor Toni Kelly talked road safety and Mary Coughlan spoke ahead of her concert in Letterkenny. Dessie Larkin was our guest in studio discussing the news stories of the week.
Part One
Part Two
Part Two: