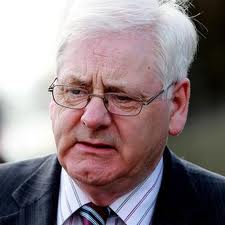 A man who lost his son in the 1998 Omagh bomb has called for sanctions against those who designed the "on the runs" scheme.
Under the On the Runs scheme, letters were sent to about 200 republicans telling them they were not wanted by the police.
The scheme became the focus of controversy after the collapse of a case against John Downey in February for the 1982 Hyde Park bombing.
Michael Gallagher whose son, Aiden, was one of 29 people killed in the Real IRA Omagh bombing, appeared before the Northern Ireland Affairs Committee investigating the issuing of letters to "on the run" paramilitaries.
He said it was important for the Omagh families to be represented: