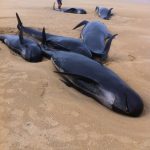 The majority of the thirteen whales that were stranded on a Falcarragh beach have now been returned to the water.
Up to 60 locals gathered at Balliness Beach, Falcarragh after a walker spotted the stranded animals this morning.
Five of the whales are dead - it is hoped that those that were returned to the water will make their way back out to sea as the tide comes in.
Local Cllr Seamus O Domnhaill is at the scene, he has praised the local community for their efforts: