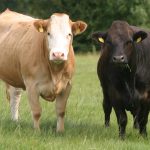 A group of thirty Fianna Fáil Councillors from the West and North West is calling on Agriculture Minister Simon Coveney to immediately take measures to deal with the issue of plummeting cattle prices.
Last night, the Councillors met with the party's Agriculture Spokespersons Éamon Ó Cuív TD and Senator Brian Ó Domhnaill, as well as representatives from local marts.
Cllr Liam Blaney says a key problem affecting this area is the fact that there are barriers to the North/South trade which are inhibiting Northern buyers from purchasing Southern cattle.
Chief among these are labelling restrictions which could be resolved if Minister Simon Coveney and his Northern Counterpart Michelle O'Neill reached an agreement on joint labelling of cattle..........