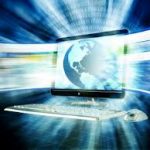 ESB says its joint broadband project with Vodafone will see regional towns get access to faster broadband than Dublin or Cork.
The 450 million euro venture will be rolled out to 500-thousand premises across 50 towns in all 26 counties by 2018.
The fibre broadband project will be the first of its kind in Europe - because it will be deployed through existing electricity infrastructure.
Donegal North East Deputy Joe Mc Hugh is welcoming the announcement, but says every effort must be made to ensure that it's not just the big towns that benefit..........