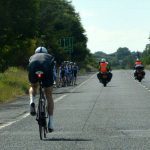 An East Derry MLA says the need for an upgrade of the Derry to Belfast rail service has been highlighted after a Coleraine cyclist made the journey between the two cities faster than the train.
On Sunday, John Madden completed the journey in 2 hours and 37 minutes, and Sinn Fein MLA says the fact that the train is slower means the Northern Ireland rail service is at risk of becoming the laughing stock of Europe.
He says this highlights the need to bring the second phase of the upgrade of the Derry Belfast line forward, to start as quickly as possible............
Picture of John Madden's historic cycle by Alicja Cernák from Cycling Ulster website.