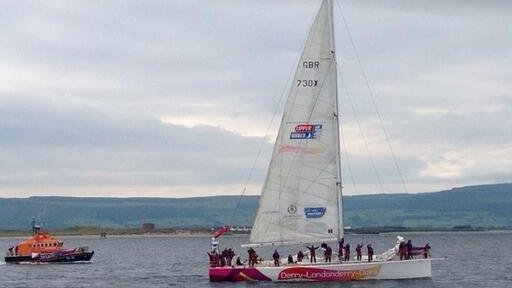 Thousands of people have today welcomed home the Derry-Londonderry-Doire yacht.
The yacht has won the home leg of the Clipper Round the World yacht race.
The win puts the crew in fourth place and in contention to challenge for the third spot on the podium.
The 2,800-mile leg from New York to Derry was the 14th stage in the 16-series race.
The arrival of the race into Derry had been delayed because of poor weather conditions caused by light winds and high pressure in the Atlantic Ocean.
Derry is the penultimate stopover on the world's longest ocean race, which left London in September.
A nine-day maritime festival, with a race village, summer promenade and sea-faring activities began in Derry on Saturday.
Up to 100,000 people are expected in the city during the programme of events.