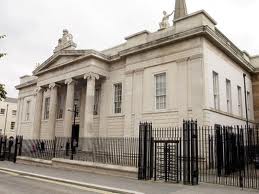 A Derry man will be sentenced on Thursday after carrying out a machete attack on his then girlfriend which left her needing plastic surgery on her hand.
25 year old Stephen O'Kane of 78, Rinmore Drive in Derry admitted wounding the woman and also his brother on August 16 last.
He also pleaded guilty to possessing an offensive weapon namely a machete on the same date.
Derry Crown Court was told that police were called to a domestic incident at 7.15 a.m. on that date and they came across O'Kane's brother with a deep gash on his left shoulder. They also found O'Kane's then girlfriend with a wound to her left hand.
The court was told that the O'Kane brothers and thir two girlfriends had been socialising when the defendant fell asleep. Sometime later he woke up and 'went ballistic' waving a machete around and fighting with his brother, who was defending himself with a baseball bat.
She then said that O'Kane got to his feet and swung the machete at her but she grabbed it. O'Kane then pulled the blade back slashing her hand.
She needed six stitches in her hand and also treatment at Dundonald Hospital for nerve damage.
O'Kane's brother declined to make a statement or give evidence.
Defence counsel Mr. Seamus McNeill said it was 'abundantly clear this incident is clouded and shrouded in the excessive consumption of alcohol and illicit drugs.'
He said the incident with the girlfriend came about when she grabbed the knife which he said 'was a somewhat reckless thing to do' and he added it 'was far from a deliberate assault.'
The Recorder Judge Philip Babington said he would adjourn sentencing until Thursday and O'Kane was remanded in custody until then.