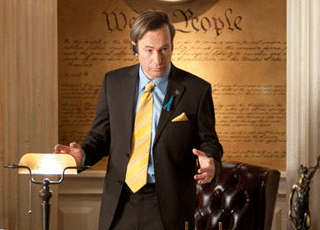 More episodes of the 'Breaking Bad' prequel spinoff show are being made but before the first series has even been broadcast!!
The Hollywood Reporter website says the US network AMC is ordering a second series of 'Better Call Saul'
However, viewers have to wait a little longer to see the programme, which won't be shown until the start of next year after being pushed back.
"Production on Better Call Saul is underway and we could not be more proud of nor more excited about the work to date," said AMC, president Charlie Collier.
"We join the fans in eager anticipation for this series and today we happily confirm that our initial Saul order is for two seasons and a total of 23 episodes.
"When introducing any series, especially one with the DNA of 'Breaking Bad', there are countless factors to consider in making sure the show gets the launch it deserves.
"We have a strong history with Vince, Peter, Bob, the studio and so many involved with this production; we are enjoying the process on Saul and all share a focus on making it a true television event. No half measures."