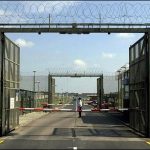 The parents of a Derry man, who blinded himself while in Maghaberry Prison, have said they want a full investigation into what happened.
Sean Lynch, had been remanded in custody facing assault charges.
The 23-year-old is currently in hospital receiving treatment after he cut his wrists and throat, mutilated his testicles and finally gouged his own eyes out.
His family say this occurred while he was meant to be on a special watch at the prison
Damien Lynch, who is Sean's father, said that the wardens who were supposed to be keeping his son under watch, should now be suspended