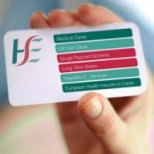 Donegal Down Syndrome are calling on the Government to reimburse money to people who are getting back their discretionary medical card.
The next month will see 15 thousand discretionary cards returned to people around the country.
But Donegal Down Syndrome are demanding the coalition go further and reimburse them for the costs they've been facing in the intervening period.
Spokesperson, Gina Grant, says while she welcomes the u-turn regarding discretionary medical cards, she says the government could have went even further: