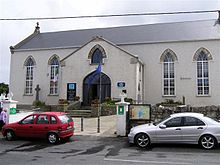 A man with 90 child images on his computer today failed in his bid to keep his identity secret.
Judge Paul Kelly ruled 44-year-old Neil McBride could be named when he admitted having 43 child pornography images on his Dell lap-top computer. He also admitted having a further 51 images of children under 17 years of age who were either fully or partially clothed.
Mc Bride tried to persuade Dungloe District Court that he was also a victim in another well-publicised Donegal case, but following repeated submissions by his solicitor Jacqui Sharkey Judge Kelly said he was permitting the name to be published.
The decision to name Mc Bride following representations at an earlier hearing by NUJ member Cronan Scanlon, a reporter in court, who argued there was no legal basis for an original ordering banning McBride being identified.
Mr Scanlon told the judge the case was "of great public interest."
Ms Sharkey today said she accepted it was of public interest and the media had a constitutional right but she argued that with his name being published it was going to reveal he was one of the victims in the other case. Judge Kelly said protection was not for offenders. It was to protect the victims in case they were linked to a defender.
But in this case, he said, the victims could not be identified. For that reason he was permitting McBride's name to be published.
At the earlier hearing unemployed McBride originally from Gweedore, but with an address at Fortwell Apartments, Letterkenny, admitted possession of the child porn images on his laptop in August 2011.
The case was adjourned until September 9, pending a report from a guidance counsellor.
Judge Kelly said he would consider at that stage a request from Garda Inspector David Kelly that McBride be placed on the Sex Offenders Register.