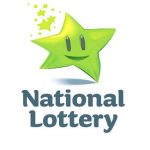 The identity of Ireland's newest millionaire remains a mystery.
A lucky punter has won over 12 million euro having purchased the winning ticket at the American House Newsagents on Main Street, Bundoran.
It is the second jackpot winning ticket sold at the outlet.
The winning numbers were: 13, 14, 24, 31, 35 and 43. The bonus was 21.
Speaking on the Shaun Doherty Show, Shop assistant at the American House Majella Hegarty was asked if she was the lucky winner: