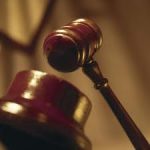 A Donegal man will be sentenced later this month for criminal damage of his ex-girlfriend's Facebook page after being acquitted of false imprisonment and rape.
The thirty year old accused, who cannot be named, had pleaded not (NOT) guilty at the Central Criminal Court to falsely imprisoning and raping the woman at her home in the early hours of April 6, 2011.
He pleaded guilty to criminal damage by altering her Facebook settings on the same date.
The court heard the man accessed his ex-girlfriend's Facebook account and posted an insulting status purporting to be her.
The jury of six women and six men returned a unanimous not (NOT) guilty verdict on the rape and false imprisonment counts after six hours deliberating. It was day five of the trial.
Mr Justice Garrett Sheehan thanked the jury members for the careful manner with which they dealt with the trial and remanded the man on continuing bail until his sentence on June 30.