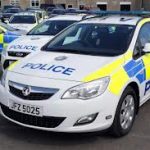 A car stolen in Eglinton late last week is believed to have been used in criminal activity in Co Donegal.
The white Ford Focus was stolen from the driveway of a house at Dunboyne Park in Eglinton in the early hours of Friday last.
Police in Derry say several other cars were searched through at Dunboyne Park around the time the Focus was taken. The stolen car was recovered in a damaged condition at Barr's Lane in the Hazlebank area of Derry shortly after 4.30am on Saturday morning.
In the intervening period, it is believed that it was used during criminal activity in the Muff and Killea areas of Donegal. The car was also seen in the Rathlin Drive area of Derry at about 5.30 on Friday morning.
Police on both sides of the border are keen to hear from anyone who can help identify the occupants.
Meanwhile, Two men aged 21 and 17 have been arrested after a car was stolen from Hinton Park, off Limavady Road, in the early hours of this morning.
It was later located on fire at Creevagh Park, Letterkenny Road, at around 5am.
Around an hour later police made two arrests on suspicion of burglary, vehicle theft and arson.