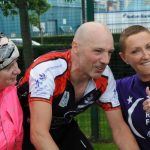 Relay for Life 2014 has been hailed a major success, with the organisers saying over 127,000 euro has already been raised, with more expected to come in from the 46 teams in the coming weeks.
This is already well above the 100,000 euro target set for this year, and the committee has confirmed that the event will happen again in 2015.
Two of the major talking points of the weekend were the 24 hour cycle which was undertaken by Gweedore man Hugh Gallagher, and the appearance of Majella O'Donnell.
Yesterday evening, two hours before Relay finished, Hugh Gallagher spoke to Highland Radio News from the saddle............
Majella O'Donnell appeared on the stage after cancer survivor Tina Moore from Letterkenny had her head shaved live.
Majella told Highland Radio News it was a very emotional thing to watch................
Pictures by Liam Porter