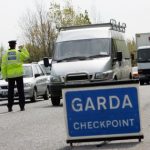 Almost a thousand motorists have been caught speeding on the roads in the last 24 hours, with the highest speed recorded in Donegal.
Gardai say a motorist was detected doing 147km/h in a 80 km/h zone on the R238 at Lisfannan outside Buncrana.
Hundreds of speed detection points remain in place across the country following 'Operation Slowdown'.
75 people have died on Irish roads since January, and the June Bank Holiday has been deemed the most dangerous weekend of the year.