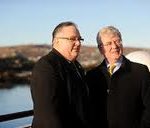 A Former Donegal Labour Councillor has said the resignation of Eamon Gilmore as the party's leader is too little to late.
He'll stay on until a successor is elected and says he wants to contest the next election.
Deputy Gilmore says he takes full rersponsibility for Labour's disastrous performance in the local, European and Dail by-elections.
Former Labour member, Independent Frank McBrearty says the resignation should have come sooner..............