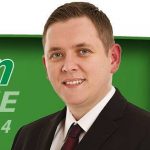 Gary Doherty justified Sinn Fein's co-option choice topping the poll in Stranorlar with 18.4% of the vote.
54.8% turned out to vote giving Doherty 1,920 first preferences.
Independent Frank McBrearty called for a general election as he welcomed his 14.8% of first preferences accruing 1,549 votes.
It would appear it will be as you were in the area with sitting councillors Gerry Crawford (1,205), Martin Harley (1,186), Patrick McGowen (1,397) all polling well. Sinn Fein look set to increase its representation through Liam Doherty (1,065).
Nothing is guaranteed when voting kicks off at the Finn Valley Centre at 9am Sunday.
Full tally results: