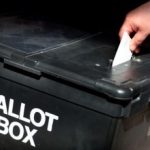 Voting takes place today in the Local and European Elections, with polling booths open until 10 o'clock tonight.
Across the five electoral areas, 83 candidates will contest the 37 seats available on Donegal County Council, an increase of 8 to reflect the abolition of Town Councils.
Meanwhile, there are four seats up for grabs in the extended Midlands - North West European Constituency.
There are over 125,000 people eligible to vote in Donegal, with an electorate of over 31,000 in the Letterkenny Electoral Area, where there are 10 seats available.
Inishowen, with 9 seats, has just over 30,000 voters, while there are 6 seats each in Donegal and Glenties, both with just over 22,000 voters, and Stranorlar with just over 19,000.
It is not necessary to have a polling card in order to cast your vote, but you must be on the register to be able to vote - people are being advised to bring identification with them to their polling stations.
There are two ballot papers, one for the Local Elections and the other for the European Elections, with all the papers going into the same box.
The papers will be seperated and verified in Letterkenny tomorrow, with the European votes being sent to Castlebar and the council votes to the count centres in the five electoral areas.
The counting of votes proper will begin on Sunday.