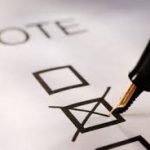 Voters on Donegal's offshore islands go to the polls today in the European and Local Elections, with polling booths on Aranmore Island open from 10.30 to 7.30, and voting taking place between 11 o'clock and 3 o'clock on the other four islands.
Meanwhile, in the North, voters go to the polls today, electing members to the new "super councils" which will come into effect next year.
753 people are eligible to vote on Donegal's islands, with two polling stations on Arranmore and one each on Gola, Inishboffin, Inishfree and Tory.
There are 514 on the electorate on Arranmore, 26 on Gola, 64 on Inishboffin 6 on Inishfree and 143 on Tory.
Meanwhile, in the North, voters go to the polls in the local and European Elections today.
The local elections mark a sea change, with members being elected to the 11 new councils being created under local government reform. They will initially operate in shadow form alongside the current 26 councils until they take over on April 1st next year.
Environment Minister Mark H. Durkan says this will allow the new councils time to make essential preparations, so they can hit the ground running next April.
Until then, he says, the current councils will continue to operate as normal, delivering their usual services and looking after all council matters.