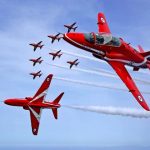 The Red Arrows will take to the skies over Donegal at the end of next month to bring a spectacular close to the 2014 LegenDerry Maritime Festival.
The display, which is being jointly promoted by the three councils in Donegal, Derry and Limavady will mark the departure of the Clipper 2013-14 Round the World Yacht Race from Greencastle on Sunday 29th June 2014.
Donegal County Council Tourism Officer Kevin O'Connor says there will be vantage points all over North East Inishowen............