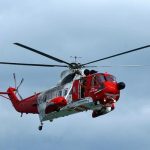 An Irish Coast Guard search and rescue helicopter crew has been given a prestigious international award this week for "exceptional performance" in rescuing an injured climber in County Donegal.
Four crew attached to Sligo based Rescue are in Canada to receive the Fredrick L Feinberg award conferred by the American Helicopter Society.
The Sligo pilot and crew was chosen from a shortlist of 200 for the rescue in the Bluestack mountains in Donegal on May 15th last year.
The rescue involved hovering a half-rotor diameter's distance from a cliff face for 20 minutes above a 365 metre sheer drop in the Bluestack Mountains in severe weather, with darkness falling.
Capt Paul Forbes, co-pilot Paraic Slattery, winch operator John McCartney and winchman Conal McCarron, along with engineers Francis Perris and Declan McGrath, were on duty when they were tasked by Malin Head Coast Guard to attend to a climber with a suspected broken leg.
During the rescue, wind was gusting to 32 knots, with low cloud and rain - the crew used an infra-red camera to locate the casualty at the base of a sheer cliff.
The casualty, who has since made a full recovery, was taken to Sligo airport, and from there by ambulance to hospital.
The helicopters manufacturers conferred the Sligo rescue crew with an award last year and made the nomination to the American Helicopter Society.