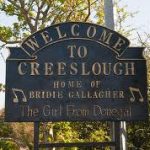 The Doe Community Association has been summoned to the High Court over an unpaid debt to a contractor as money promised to them by the Department of the Environment has not come through.
In February, it was claimed legal proceedings against the development group would be dropped with the commitment that funding owed to it for regeneration work that took place in the village would be paid.
With the assistance of Donegal County Council and the approval of LEADER Grant Funding by DLDC, the group's Creeslough Enhancement Project was completed last year at a cost of 400 thousand euro.
However, due to a difficulty with a technical aspect of the tendering process the project was deemed retrospectively ineligible for the €372,000 LEADER funding by Minister Phil Hogan's Department.
The Doe Development Association was then served with a plenary summons to the High Court by the company that carried out the work for which it was not paid.
In February, the Department of the Environment said it would provide 280 thousand euro towards the outstanding balance, however that money has not yet been paid.
Donegal County Council committed to pay half of the outstanding balance, but we understood that that money has also not yet been paid either. At the time DLDC made no commitment.
As a result, The Doe Community Association says legal proceedings by the contractor are proceeding and they have been summonsed to the high court.