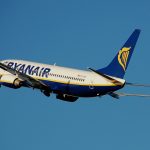 Ryanair's announced an 8 per cent fall in profits for the 12 months to the end of March.
However the figure of 523 million euro is slightly ahead of what was expected, when lower fares, weaker sterling and higher fuel costs were taken into account.
The airline also saw a 3 per cent jump in passenger numbers.
Management are planning to continue their drive to improve customer service, following the rollout of a number of initiatives which have proved popular.
Kenny Jacob is Ryanair's Chief Marketing Officer, and he's been asked this morning whether they could have focused on the area sooner:
"What customers want from Ryanair, above everything else, is the lowest fares and that is what has made us number one. We want to keep growing and to do that, you have to keep evolving the offer. This is an evolution of already the best offer in the airline category but we want to listen to customers, they have some great ideas and they will tell us what they want us to work on"