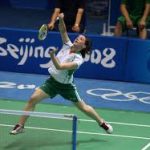 It was a day of highs and lows for Raphoe's Chloe Magee as she took Gold and Silver in the 2014 Hellas open in Greece.
Magee was first on court on Sunday against number one seed Linda Zetchiri of Bulgaria. The final had followed the seeding as Magee who was seeded two for the event fought her way through some tough matches to set up the big final. In the final it was Zetchiri who dominated the match beating the Irish number one 21-13 21-13.
Chloe did not have long to be disappointed as her brother Sam was left with the responsibility of getting her back up for the mixed final. In the mixed final it was another Irish Bulgaria line up with Chloe looking for revenge from her earlier match up. The Irish showed their class as they took the mixed doubles title with an impressive 21-14 21-10 win over Blagovest Kisyov and Dimitria Popstoikova.
The Donegal badminton stars will be back in action next week as they travel to Spain for the 2014 Spanish Open.