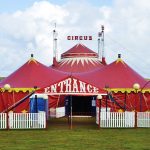 Donegal County Council is to consider banning animal acts in circuses.
The issue was raised this week at the final meeting of Letterkenny Town Council's Municipal Committee by community representative Kathleen Murray.
She says the recent Duffys Circus in Letterkenny included performances by a group of sea lions which attracted some public protest.
Petitions to ban circus animals in Donegal are now being taken up online and on the streets of the county.
Kathleen Murray says this is an indication of how attitudes are changing: