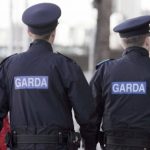 The Letterkenny Joint Policing Committee has been told gardai are hoping to make arrests in relation to a number of aggravated burglaries earlier this year.
The committee was told there's been a fall in reported crime in the district from January 1st to April 30th this year. Thefts were down in the first quarter, but assaults and criminal damage were up.
However, Superintendent Michael Finan told the meeting that the overall picture is positive.
The number of reported burglaries remains constant, with 37 between January and April this year, the same as 2013. Superintendent Finan acknowledged that there were a number of aggravated burglaries in January and February in the vicinity of Letterkenny and Newtowncunningham. He said suspects have been identified and searches have taken place. Investigations are ongoing, he said, and gardai are hopeful of arrests
Reported thefts were down in the first quarter from 51 to 46, with thefts of handbags and mobile phones the main problem. Superintendent Finan said there appears to be an increase in thefts from offices during business hours, as well as from pubs and clubs at night.
Thefts from shops were down from 63 to 55, as were thefts from unoccupied cars down from 17 to 15.
Public order offences were down from 160 to 142, but there were increases in the number of assaults, up from 62 to 72, and incidents of criminal damage, up from 57 to 63.
Last night's meeting marked the end of the Letterkenny Joint Policing Committee in its current format, with no indication of whether it will be replaced with another local structure when Environment Minister Phil Hogan confirms how Municipal Districts will operate.
Superintendent Michael Finan says the JPC has proved a very important point of contact between the gardai and the public: