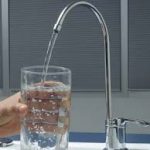 Irish Water says it will invest nearly 1.8 billion euro between now and 2016 in improving the water infrastructure and says it will explore all options in order to raise the cash.
In Donegal, 46 million euro will be spent on waste water treatment schemes in 13 locations including Ballybofey, Raphoe, Letterkeny, Moville and Falcaragh.
A further 9.8 million euro will be spent on 10 water supply schemes that will commence construction across the county by 2016.
Irish Water says that where possible money will be spent on a further 32 waste water treatment plants that failed EPA monitoring in 2012.
The company says it still needs to raise more than 500 million euro in additional funding to carry out necessary works on the system nationawide.
Gerry Grant is Head of Asset Management for Irish Water: