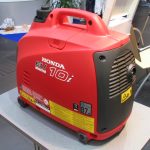 Donegal's Crime Prevention Officer is asking home owners to be vigilant if buying power tools and generators from door to door sellers.
The warning centres on items carry brand leading logos such as Honda which are not the genuine article.
Gardai say the items are being sold by well dressed men with Midlands accents and were offered for sale in South Donegal last weekend.
Garda Sergeant Paul Wallace says people should by these products from reputable dealers: