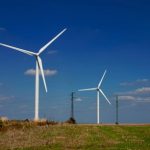 A month long public consultation on windfarm policy in Donegal has ended with the delivery of over 2,600 submissions to the county council by the Glenties Windfarm Information Group.
The public were asked for their views on the placing turbines ten times their tip height away from homes, and also the proposed change of zoning in some areas to protect fresh water pearl mussels.
The group says there is overwhelming public support for both measure which it has been promoting, as well as a rejection of Council's proposal to facilitate windfarm developments in the vicinity of Glenveagh National Park by "refining" the park's zone of visual influence.
Ernan O'Donnell is Chair of the Glenties group...........