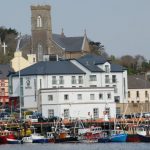 The official launch has taken place today of the new biomarine plant in Killybegs which, when completed will create in excess of 50 jobs for the area.
Flagged earlier this year, this morning Bio-marine Ingredients Ireland held an Information Meeting this morning to give more details of the €35 million state-of-the-art plant.
It will generate up to 50 jobs during the construction phase and create 70 direct and indirect jobs provided it gets planning permission and state aid approval.
The facility will be used to extract proteins, oils and calcium from fish for use as food ingredients and has the potential to produce supplements for athletes:
The KFO's Sean O'Donoghue describes what will happen next: