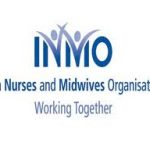 The Donegal Branch of the Irish Nurses and Midwives Organisation says it will be stepping up the campaign for increased staffing at Letterkenny General and other hospitals.
Local representitive Edel Peoples is at the INMO conference in Kilkenny, where a national campaign has been launched to improve staff to patient ratios, with nurses quoting research which says there is a direct link between staffing levels and patient safety.
Edel Peoples said following last year's flooding at Letterkenny General, there's been a major effort to replace buildings and equipment, but when staff are lost, the recruitment moratorium means they are not replaced.........