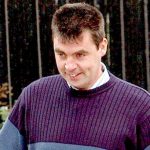 The case against a man accused of murdering 29 people in the 1998 Omagh bomb has been adjourned until 3 June.
43-year-old Seamus Daly, who is originally from Colloville in County Monaghan, appeared at Omagh Magistrates Court by videolink from Maghaberry Prison.
A prosecutor said the investigation was at an early stage and he asked for a four-week adjournment.
A defence lawyer told the court all materials in the case had been in police possession for nine years.
He said the indications were that no new matters would be put to the accused and a full file would be sent to the Public Prosecution Service by the end of July.
Mr Daly also faces charges of causing the explosion in Omagh and possession of a bomb in the County Tyrone market town with intent to endanger life or property.
He is further charged with conspiring to cause an explosion and having explosives with intent in connection with a separate dissident republican bomb plot in Lisburn, County Antrim, in April that year.
No-one has ever been convicted in connection with the Omagh bomb.
Mr Daly, who has a previous conviction in the Republic of Ireland for IRA membership, has already been found liable for the bombing in a landmark civil action taken by victims' families.