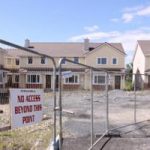 Donegal County Council has secured over €1.5m for Unfinished Housing Developments.
The council made 10 applications to government under the Special Resolution Fund Initiative and was awared funding for eight of the applications.
The total amount of funding received was €851,101 and this will in turn leverage additional private investment of €680,288.
The money will be targeted to principally address infrastructural deficiencies within the developments such as roads and footpaths, water and sewer services, public lighting and amenity or open space areas.
The biggest allocation is the the Crest of Wave estate in Bundoran which recieves a total of 325 thousand euro in investment.
Other estates to benefit include Ard na Greine, Ardara, Cathedral Hill, Raphoe, Cois na hAbhainn in Malin, Doran Close Bundoran, Gerards Way Carndonagh, Monreagh in Burnfoot and Radharc an Chuian Ramleton.
All works funded under this initiative must be fully completed and all monies drawn down from the Department before the end of 2014.