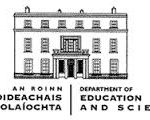 The Government's announced that 386 schools around the country are to get money for vital improvement works.
35 million's being provided for the summer work scheme which will see upgrades of toilets and roofs in primary and secondary schools.
This money is on top of 36 million announced in March for bigger gas, electrical and mechanical works.
Education Minister Ruairi Quinn says the money will ensure children are safe, warm and secure in schools.
In Donegal, 13 schools are included, ten primary and three post primary schools. -
| | | | | | |
| --- | --- | --- | --- | --- | --- |
| Donegal | Primary School | S N Neill Mor | Killybegs, Co Donegal | 11843O | Roofs |
| Donegal | Primary School | Scoil An Leinbh Iosa | Killymard, Donegal Town, Co Donegal | 17260U | Roofs |
| Donegal | Primary School | Scoil Adhamhnain | Rathbhoth, Leithbhearr, Co Dhun Na Ngall | 17828C | Toilets |
| Donegal | Primary School | S N Na Hacrai | Ailt An Chorrain, Leitirceanainn, Co Dhun Na Ngall | 18286U | Roofs |
| Donegal | Primary School | Scoil Choilmcille | Convent Road, Letterkenny, Co Donegal | 18625Q | Toilets |
| Donegal | Primary School | Glenswilly N S | Newmills, Letterkenny, Co Donegal | 19313C | Toilets |
| Donegal | Primary School | Naomh Bodain | Culdaff, Lifford, Co Donegal | 19614Q | Roofs |
| Donegal | Primary School | Scoil Mhuire | Glenties, Co Donegal | 19912B | Roofs |
| Donegal | PostPrimary School | AbbeyVocational School | The Glebe, DonegalTown, Co.Donegal | 71180F | Roofs |
| Donegal | PostPrimary School | MulroyCollege | Milford, Letterkenny, Co Donegal | 71220O | Roofs |
| Donegal | PostPrimary School | DeeleCollege | Raphoe, Lifford, Co Donegal | 71230R | Roofs |
| Donegal | PostPrimary School | CarndonaghCommunitySchool | Carndonagh, Lifford, Co Donegal | 91406R | Toilets |
| Donegal | PostPrimary School | Pobalscoil Chloich Cheannfhaola | An Fálcarrach, Leitir Ceanainn, Co. Dhún Na Ngall | 91408V | Toilets |