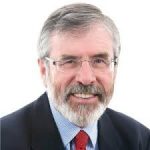 Sinn Fein President Gerry Adams has spent the night in PSNI custody after being arrested in connection with the murder of Jean McConville.
The mother of 10 became one of 'The Disappeared' after she was abducted and murdered by the IRA in December 1972.
65 year old Louth TD Gerry Adams said last night he was meeting with the PSNI voluntarily, having contacted them last month.
The PSNI says he was arrested after going to the station and is being questioned by detectives at the Serious Crime Suite in Antrim.
He can be held for up to two days without charge.
The party's Deputy Leader claims his arrest is politically motivated, coming as it does just weeks before local and European elections.