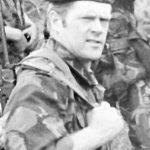 The PSNI has confirmed that it is re-examining the case of the IRA murder victim Lexie Cummings who was gunned down more than three decades ago.
A part-time member of the UDR, the 39-year-old was fatally shot in Strabane, Co Tyrone in June 1982.
No-one has ever been brought to justice.
In March 2012 DUP MP Jim Shannon used parliamentary privilege to name a public representative in Donegal who he believed was involved in the murder of Lexi Cummings.
Speaking today, West Tyrone MLA Ross Hussey said anyone with any information regarding this investigation should come forward: