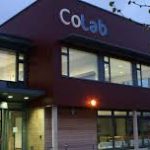 Work has started on a 20,000 sq ft extension at Letterkenny's CoLab Building which hopes to create dozens of new start-up jobs.
Preparatory works have got underway at the new building which will house scores of new small businesses and the Northwest Regional Science Park.
The extension will double the size of the CoLab which boasts a number of local businesses including 3D Issue, SendMode, KeyedIn Solutions, and Safetech.
More than 100 people are currently employed in start-up businesses in the CoLab and management hope that will double when the extension is complete.
LYIT President, Paul Hannigan says it is a massive project for them: